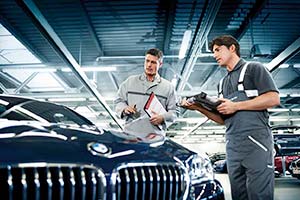 You have the BMW of your dreams--you've signed the papers, broken in the new upholstery, and equipped your favorite luxury accessories. But when it's time to schedule auto service or basic maintenance, you might find yourself leaning toward your basic body shop or quick-lube station.
But doesn't your BMW deserve the best?
At BMW of Kansas City South, we have a dedicated, passionate team of professionals that know all of the ins and outs of your exact vehicle, and can provide a significantly higher level of service than any generic auto shop--and at prices that may surprise you.
If you think that we're expensive just because we're a certified BMW service center, think again.
With simple services starting at just $39.95--and the ability to bundle multiple services and take advantage of available service coupons--it's a lot more affordable than ever to get the best in quality, dedicated BMW service in KC.
Even if you have waived Ultimate Care services, or your warranty-covered service term has expired, you can still find exceptional service and car care at your local Kansas City BMW dealership.
Learn more about BMW Value Service, our local facility, and our team by exploring online. Or, visit us at 1200 W. 104th to see how it all works.