The State-of-the-Art 2021 BMW i3 Brings the Future to Your Driveway
It's not hard to look forward to the future--or, be in the future--when you get to drive the newest BMW i3 of i3 s model. This compact electric vehicle has been changing the game for hybrid cars and EVs since it first landed in Kansas City, and the new 2021 model is ready to keep up the momentum.

Make an Inquiry
* Indicates a required field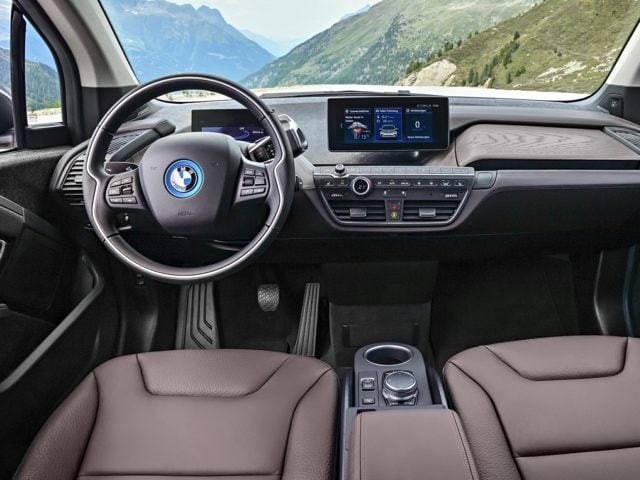 Creature Comforts That Care
The interior of the 2021 BMW i3 is more than just sleek, stylish, and comfortable. It's made up of materials that are largely sustainably-sourced, or even recycled from existing materials. The standard leather-like upholstery uses a soft plastic fabric made from recycled bottles--and an olive-leaf-oil-tanned leather upholstery is available. Open-pore eucalyptus wood is one of the most sustainable materials, and looks great. There are more-eco-friendly plastics used in upholstery fabric, parts of the dashboard, and even in the body in the form of carbon fiber-reinforced plastics.

An Aerodynamic Design
The classic BMW roundels and dual kidney grilles make it, unmistakably, a BMW--but everything else makes it one-of-a-kind. The intelligent design and aerodynamic sculpting of the body give the 2021 BMW i3 a drag coefficient of under 0.30 Cd, which is impressive for a car like this. The rear-hinged second-row doors make for an easy entrance and exit for your passengers, and work with the overall flowing design of this compact EV.
Engine Performance and EV Range
The BMW i3 can offer a battery-only driving range of up to 180 miles, when equipped with the optional range extender--which is a small and extremely fuel-efficient gas engine that can charge the battery while it powers the car. Standard EV options are good for a range of up to 114 miles. The electric powertrain is good for a combined 170 - 181 horsepower.
Technology Features and Charging
The 2021 BMW i3 can charge at a rate of about 3-4 miles per hour from just a standard Level 1 home outlet; Level 2 outlet charging gives you up to 26 miles per hour of charging; and Level 3 public stations near your work office or local stores can provide up to 80% of your total range in just 30 minutes. The new BMW i3 offers a fairly simple layout, but equips an intelligent infotainment system with media, maps, and music controls easily at hand.